About Hallmaster Booking & Reservation Systems
Developed in close conjunction with committee members and trustees, Hallmaster was developed to alleviate the common problems Village Halls, Community Centres, Church Halls and Clubhouse Volunteers have in managing their bookings & invoices.
Used in 1500+ venues…and counting.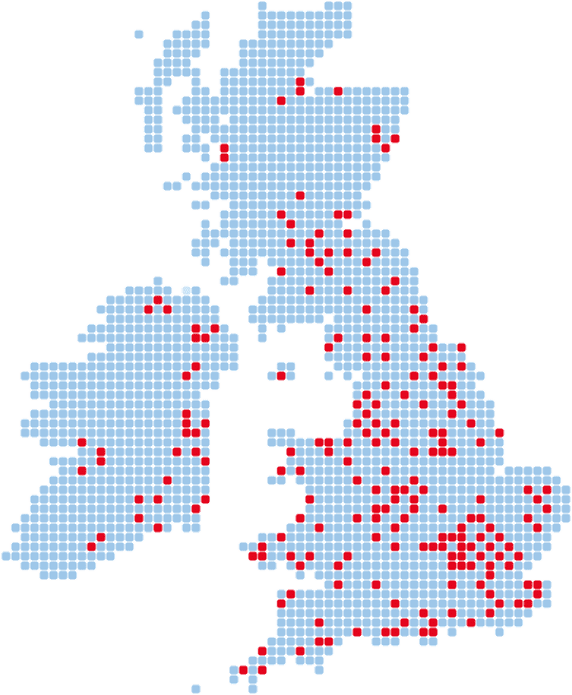 How does Hallmaster help?
Many halls find that after integrating Hallmaster into their website, promoting online availability and current events, they now reach a much wider audience, and therefore generated the self-funding they needed.
So are you still in control?
The simple answer is yes! Booking Officers can now create and manage all their bookings any time of day or night and from any computer/mobile connected to the internet. If they ever go on holiday or off sick, another Authorised Administrator can step in and manage the Bookings in their place. Once Registered through the Hallmaster Website you can get started straight away in completing the Venue details, Rooms and Facilities, different Room Rates, Customers and Activities, including integrating your Hall's existing Website, plus for a Multi-Venue option that allows Town & Parish Councils and Co-Operatives to manage all their venues under one Hallmaster License.
The Annual Licence Fee will give Unlimited Bookings, Unlimited Invoicing (with the invoicing module), Free System Upgrades and Telephone and Online Meeting Support.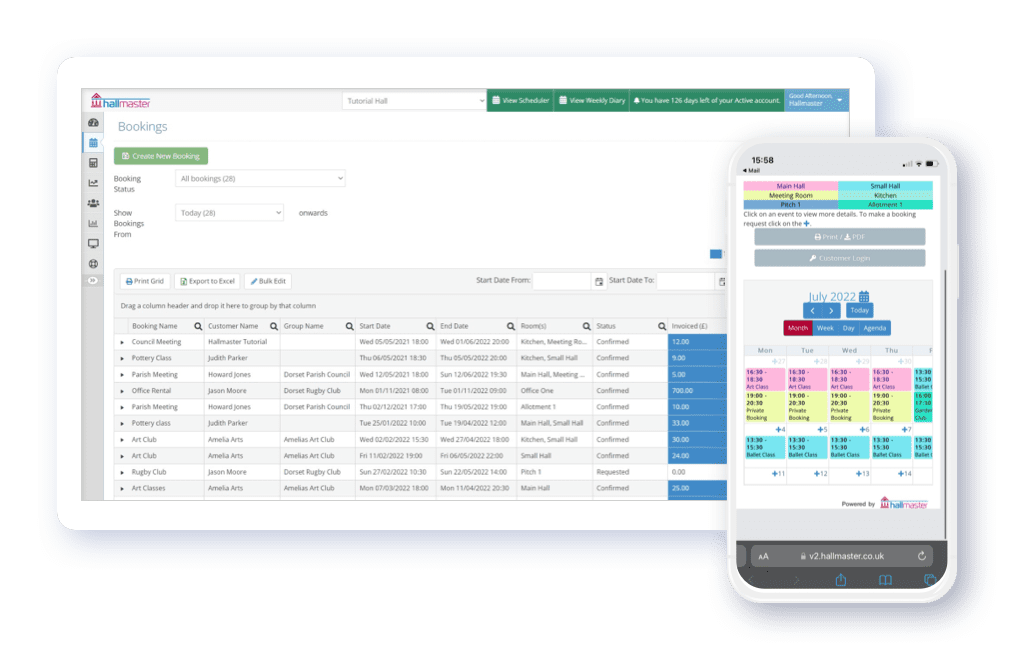 Hallmaster History - a software
brand that you can trust!
Hallmaster is a trading name of Hallmaster Ltd which has been developing websites since the early 90's, including designing one of the first database driven Ecommerce Online Websites. This knowledge and experience of Web Design and Development has been at the forefront of developing the unique features of Hallmaster, the Online Booking and Invoice Management System specifically designed for Village Halls, Community Centres and Venues with rooms to hire. From the beginning, the success of Hallmaster was recognised by ACRE (Action with Communities in Rural England) and this brought about an Agreement with to promote the system through its network of RCC Advisers Nationally, with the aim to improving the management and day to day running of Village Halls, Community Centres, Church Halls and Clubhouses.
What people say about Hallmaster
"We have a very busy church community centre with 10 rooms used by the local community and our own church groups and uniformed organisations. We managed this with a vast array of Excel spreadsheets and Word documents, which took up huge amounts of time and lots of papers being printed off. We decided to trial Hallmaster and can honestly say it's the best thing we could have done. It is so suitable to our needs and we have abandoned our previous system and gone over 100% to Hallmaster. Invoices used to take hours and hours to produce and now a few clicks and they're done. It is a system I'd wholeheartedly recommend to any community or church centre."
"I was apprehensive about changing our booking system initially but moving to Hallmaster is the best decision I have made. The support team is readily available and extremely helpful, all of my booking problems and queries have been resolved straight away. The booking system itself is nice and simple and intuitive for customers to use. All in all, I am delighted and would recommend it to anyone."
"Our present Bookings Officer previously handled everything via a rather tatty old black diary that followed her everywhere. I gave her some training on how to use the system and she has taken to it like a duck to water! Mostly that is down to the great User Interface design Hallmaster implemented."
We think the Hallmaster Booking service is wonderful, easy to use, accurate, helpful support service, excellent all round, well done and thanks for being there - saved me hours of paperwork.
Want to learn more about how Hallmaster can help your venue? Contact our team now! Our experts are available to answer any questions you might have, and talk you through the set-up process. Try us out with our 90-day free trial, with full support included, and no commitments necessary!